Woww Sherry Massage
5 February, 2012 at 1:12 am in All Massage Ads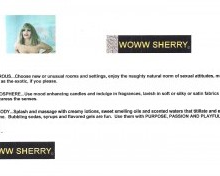 Hello. Great to Meet You!  Send me an email I will send you some photos.  Very experienced, have a great time.  I wear black lingerie while doing the massage.  I am 5'4" and weigh 116 lbs. Blonde Hair Age: near age 49. Stictly Confidential. Within 30 miles from Atlantic City, it would be $70.00 for a 1 hour massage.  If over 30 miles, up to about 60 miles radius away it will be $100.00 for 1 hour or 90 minutes either way.  I come to your location.  Give me an hour or more notice or even a day before notice to be sure.  An hour south would be Cape May an hour north would be about exit 91 on the Parkway, Toms River area give or take.  Or up to or near or about the same distance to the Camden County area and Burlington County etc.  SORRY I ONLY CHECK MY EMAILS WHEN I CAN. PLEASE MAKE YOUR APPOINTMENT ON THE PHONE.  Make an appointment if you want a certain time.  Give me a call I don't make text or email appointments Safe Massage Prices Sherry 609-457-0859  Look at the photos and you will also see the book cover.  You can buy the book at: 
http://bookstore.authorhouse.com/Products/SKU-000342998/Whos-Behind-The-Door.aspx
You can see the book for FREE at my former escort website
www.wowwsherry.com 
  There is more information there about my work.